Not all fertilizers are created equal. The difference between the best fertilizers out there and average fertilizers is drastic. With the right fertilizer, your arborvitae will grow strong and healthy.
Our top recommendation is…
Setting up your arborvitae for success is important since the process of growing arborvitae can take a while before you see the effects. Buying the proper fertilizer for arborvitae is of utmost importance for this reason. Unfortunately, it can be difficult to find the best fertilizer since there are so many products out on the market. I've done the hard work to help you simplify your decision and to find the best fertilizer for your arborvitae. Keep on reading my article to learn more.
Comparing These Arborvitae Fertilizers
VPG 11695 Azalea-Evergreen Food Plus with Systemic, 15-Pound
BioAdvanced 701910A 12-Month Shrub Protect & Feed Insect Killer and Tree Food, 10-Pound, Granules
Schultz 018064 Spf48220 Nursery Plus Slow-Release Plant Food, 12-6-6, 3.5 Lbs
GreenPinky's Top Pick
BioAdvanced 701910A 12-Month Shrub Protect & Feed Insect Killer and Tree Food, 10-Pound, Granules
The Best Arborvitae Fertilizers
These are the best fertilizers for arborvitae. Any of them will work well and far exceed the quality of most fertilizers that you will find in your local gardening shop. Please keep reading below to learn more about each one.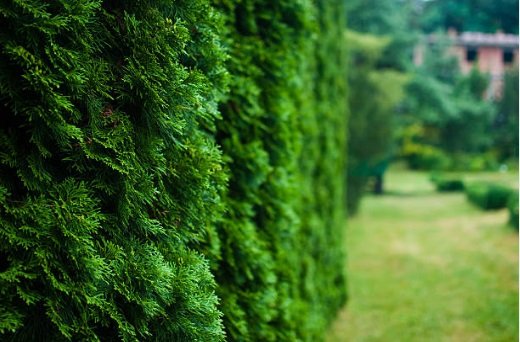 Best Fertilizers for Arborvitae
Specifically designed for evergreen trees and shrubs, BioAdvanced Tree and Shrub Protect and Feed not only nourishes plants for up to three months, but it also provides systemic protection from a variety of insects and conditions. This fertilizer can ward off scale and kills emerald ash borers, adelgids, Japanese beetles, fall webworms, leafminers, and harmful caterpillars. Best of all, this protection is rainproof and can last for up to 12 months. Gardeners can use this to rest assured that their arborvitae will grow strong and healthy without worrying about insect infestations.
Fertilome Azalea-Evergreen Food works to nourish plants in two ways. First, it protects new growth for up to eight weeks, helping plants become established. Then, the fertilizer, which contains essential micronutrients, helps to nourish the plant's entire system for a healthier overall evergreen. The fertilizer is absorbed through both the roots and leaves, and helps plants such as arborvitae grow stronger and healthier, with more stable root systems and more lush foliage. Fertilome Azalea-Evergreen Food also protects against insects such as leaf beetles, leafminers, psyllids, lace bugs, aphids, adelgids, and Japanese beetles.
Evergreens, trees, and shrubs will be looking their best after gardeners use Schultz Nursery Plus Plant Slow Release Food. This fertilizer features a slow release formula so it is capable of nourishing arborvitae for up to three months. The iron, fertilizer, and micronutrient combination formula helps to grow healthier, fuller, and larger shrubs and trees by first feeding the root system, which creates a strong base for the plant. Gardeners who utilize this fertilizer will find that their arborvitae trees grow more quickly and are more capable of fighting off plant diseases.
Jobe's Evergreen Fertilizer Spikes are specifically designed to nourish evergreens such as spruces, junipers, and arborvitae. The pre-measured spikes are easy to use, delivering a continuous supply of fertilizer directly to your arbovitae's roots. Because this fertilizer features a slow release formula, the spikes can be inserted either in early spring or late fall, and they will continue to nourish plants all season. In addition, there is no mess, waste, smell, or dangerous runoff with this fertilizer. Evergreen trees and arborvitae shrubs will be healthy and lush after using these fertilizer spikes.
Miracle-Gro's Shake 'N Feed for Flowering Trees and Shrubs is designed to help young or newly replanted or repotted arborvitae get a strong start. It can also help established evergreens flourish. This formula is specifically crafted to produce deep green foliage, extra colorful, long-last blooms, and to increase the plant's overall health. The ingredients are natural and are designed to feed the microbes in the soil, so gardeners can feel great about using this in either containers or ground gardens.
Growing Healthy Arborvitae​
Nutrients that Arborvitae Require
Arborvitae, particularly young arborvitae, require fertilizers that are high in nitrogen. The typical N-P-K ratio that I recommend for arborvitae evergreen trees is about 3-1-1. With nitrogen in high ratios, it allows your arborvitae to have healthy growth and it is recommended that you use a fertilizer like this for at least the first 5 years of its life. Furthermore, nitrogen is necessary in the homeostasis of the tree as it uses it in photosynthesis.
A slow release fertilizer is probably your best bet when it comes to arborvitae because a slower delivery of nutrients is easier for the arborvitae to take up. This allows less fertilizer to be used and minimizes excessive nutrient delivery to the roots which can lead to root burn.
During the winter, evergreens such as arborvitae do not frequently require extra fertilization. However, you should check your evergreen to make sure that animals such as rabbits are not causing damage to your tree. If you see evidence of wildlife damage to your tree, then you can consider putting up hardware cloth at the base of your evergreen to prevent animals from getting inside. If you are going to do this, which is recommended, try to install the protection in early winter and remove it in late spring.
Again, I recommend buying the BioAdvanced Tree and Shrub Protect and Feed to raise the healthiest arborvitae possible. Be careful not to buy a fertilizer that may do more harm than good. Any of the fertilizers above will be beneficial to your arbovitae. Buyingon of them will give you the best chances of raising a healthy arborvitae